BLOG:  LONDON II
An independent spirit: Taeuber-Arp CREDIT: Alamy
Reviewing Sophie Taeuber-Arp(1889-1943)iArt Exhibition n the Tate Modern

Images:  Taeuber-Arp with one of her 'Dada' heads.(1920);  LA Art Party
 Swiss born Sophie Taeuber-Arp's exhibition in the Tate Modern is really worth a visit for anyone with a particular interest in an artist who had the capacity to waltz from one medium to another effortlessly and making no apologies to anyone. 
She was a key part and one of the few women involved in the Dada movement.  This was a movement formed by a group of artists  which emerged at the end of World War I and they believed in creating new meanings for what art could be.  
                                                                    Fountain by Marcel Duchamps
                                                      https://images.app.goo.gl/d2jL858YGrJPozHq9
The most notable of these Dada artists has to have been one of the founding artists -Marcel Duchamps, with his most infamous piece 'Urinal' (Fountain) a 'sculpture' that was to change the course of art forever.
 I must confess to not having heard of this ground breaking and innovative artist before.  She really was 100 years ahead of her time: a trailblazer who died way too young, tragically, due to accidental carbon monoxide poisoning, in 1943 when she was just 53 years old.
Elementary Forms, 1917
Taeuber-Arp studied textile design at the trade school (Gewerbeschule, today School of Applied Arts) in St. Gallen (1906–1910).  She then moved on to the workshop of Wilhelm von Debschitz at his school in Munich, where she studied in 1911 and again in 1913; in between, she studied for a year at the School of Arts and Crafts (Kunstgewerbeschule) in Hamburg.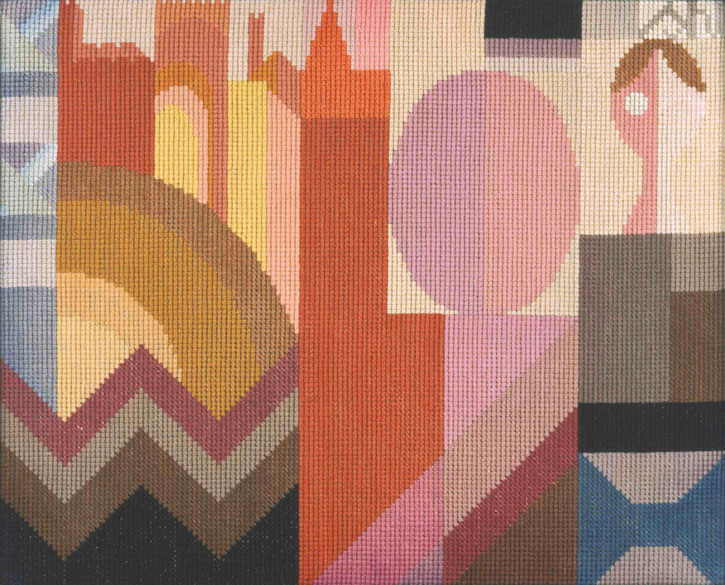 Tapestry by Sophie Taeuber-Arp
During her life, Taeuber-Arp worked as a designer, teacher, puppet maker, architect, painter, interior designer, sculptor, performer, jewellery-maker, illustrator, and magazine editor. Through her precise but playful work, she fulfilled a desire to 'make the things we own more beautiful.'  She even trained as a dancer which was to inform her when she was making marionettes and how they could move
Taeuber-Arp often collaborated with her husband Hans (Jean)Arp but her own work was overshadowed by her husbands' and overlooked for the most in art history until recent times.   This exhibition in the Tate Modern helps to redress this and place her firmly on the art history map and  rightly so in my opinion.
Collaborative piece between Sophie Taeuber-Art and her husband, Hans (Jean) Arp. 
In Zurich in 1914, she taught at the Applied Arts department of the Trade School and began to produce non-representational works on paper which she often used as designs for her textiles, embroidery and even costumes. These works were influenced by her training in textile design and saw the beginning of an extraordinarily diverse career.
Detail of photograph of (left to right) Sophie Taeuber-Arp, Sonia Delaunay, Jean (Hans) Arp, and a friend in Grasse in 1942. Photo: © Archiv Fondazione Marguerite Arp, Locarno
She was a contemporary of Sonia Delaunay and they were great friends who collaborated at a stage with three other friends.  There is a definite influence between their work but the question is - who was influencing whom?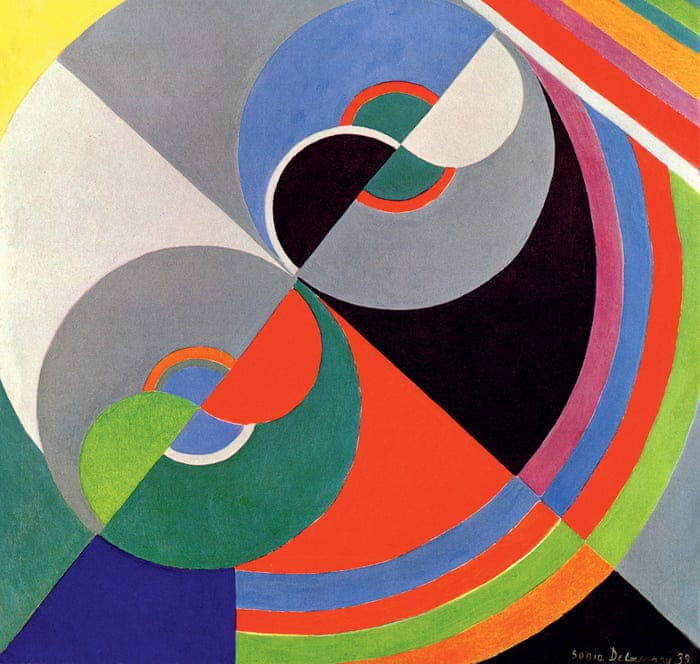 Painting bySonia Delaunay
Taeuber-Arp wanted to produce beautiful things that people could have in their homes and enjoy.  This also included furniture and stained glass.  She felt that a life full of fun and beautiful things could even help us to more easily face the problems of everyday life* and,  I would add, this is as true now as then.
Between 1937 and 1939 Taeuber-Arp edited the magazine Plastique, which was published in Paris and New York.
Dr. Komplex, Marionnette by Sophie Taeuber-Arp, 1918
She didn't take any nonsense about the  differences between fine art and 'applied' art and crafts.  To her, as an artist, all that she worked at in her paintings, she applied the same artistic principles to designs for practical objects, such as furniture and fashion. This included cushion embroideries, beaded jewellery, and designs for rugs and textiles. In turn,
Taeuber-Arp challenged the traditional boundaries separating fine art from design and argued that art was inextricably tied to daily life.   In her eyes all was equal in merit, fine art was not superior to any other form of art.
She went so far as signing some of her beaded bags and cushions, as an act of defiance, claiming these items to be fine art by adding her signature.   Amongst the many areas she covered:  she painted, designed and made wooden heads, marionettes, jewellery, designed furniture, rooms, houses, termed herself an architect but I'm not sure that she had any paper qualifications.  I just love this woman.  Maybe because, 100 years on, this ridiculous debate and rift goes on between one form of art (fine)  and just about every other form of art is carried on.
Oh how I would love to have met this particular artist, she danced to the same tune that sadly I, and many other multi-disciplinary artists still seem to have to nearly 100 years on.    
She married fellow artist Hans Jean Arp in 1922.
Again I would say that this exhibition would not be of interest to everyone but for those who go you can't but marvel at the expanse of Sophie Taeuber-Arp's portfolio.   It is noticeable how one discipline informs and is related to another seamlessly.  I thoroughly enjoyed it!
See the Sophie Taeuber-Arp exhibition at Tate Modern, 15 July – 17 October 2021
If you would like to read more about this inventive artist have a look at these articles:
https://www.tate.org.uk/art/art-terms/d/dada/five-things-know-about-sophie-taeuber-arphttps://www.artnews.com/feature/sophie-taeuber-arp-dada-why-is-she-important-1234579795/
*Meet the artist by Zoe Whitley
Until next time - keep smiling and stay safe!
Siobhan x